Montreal is one of the most charming cities in Canada as well as in North America. Located along the pristine St. Lawrence River, the city of Montreal offers the rich taste of various ethnicities. Though the city is not only known for its Korean cuisine, but Montreal Korean restaurants are found everywhere.
Montreal shares a close cultural connection with South Eastern Asian delicacies. Today, authentic Korean cuisines offering the taste of Eastern Asia can be enjoyed at the Korean restaurants in Montreal. The city offers you a wide diversity of Korean restaurants to select from.
Most Korean restaurants in Montreal are unique displaying the rich culture of Korea. They are decorated using the traditional Korean plans and designs. So, let's find out the best Korean restaurants in Montreal to enjoy the authentic Korean taste!
Arirang
Situated close to Maison Bulgogi, Arirang is one of the best known eateries in Montreal serving guests MSG-free Korean cuisines. The list of menu includes the spicy stews, teok-bok-gi, stew made up of chewy rice cake and fish cake, all of which are available at a standard Korean fare. Another item worth-tasting includes garlicky beef bi bim bap which is served with vegetables, sliced beef and fried egg.
Korea House
The Korea House provides casual fine dining experience in a comfortable setting serving guests beer and wine. Out here you can enjoy a variety of authentic Korean dishes like Korean styled noodles, Bulgogi, fried dumplings, and Jap Tchae supplied with plenty of Korean garnishes like pickled cucumbers, bean sprouts, garlic chili, kamchi and the sesame oils. For the entertainment of the visitors, karaoke music is played on the restaurant premises.
Atti
Atti brings you traditional Korean dishes available at Korean fare. You will find call buttons and old Korean print dcor at every table for signaling the waiters. An upscale and modern ambiance, you will find popular dishes like bibimbap, bulgogi beer haemul kimchijeon, and tasty pancakes studded with kimchi and seafood chunks all of which calls for a wonderful lunch or dinner. Most vegetarians will like the vegetarian tofu stew and sweet potato noodles with vegetables served at this Montreal restaurant.
La Maison Bulgogi
La Maison Bulgogi serves a wide variety of Korean cuisines at a convenient Korean fare. This small space and minimal dcor outlet specializes in serving marinated beef, bulgogi, spicy stews, dol sot bi bim bap, rice, beef and vegetables served in piping hot stone container or pot.
Hwang Kum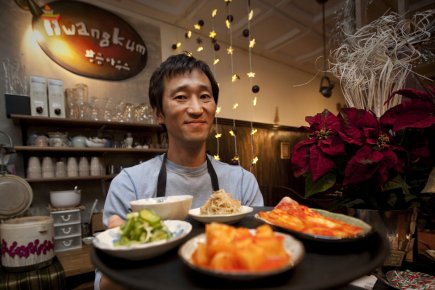 Hwang Kum is one of the most notable Korean restaurants in Montreal serving you the most authentic taste of Korean dishes. It offers you unpretentious dcor and calls for a wonderful lunch spot in Sherbrooke street area. And the restaurant offers you a bistro styled dinner at night.
Koko Restaurant & Bar
The Koko restaurant and bar located in Downtown Montreal is one of the newest entrants in the gourmet scene of the city. This warm and congenial space serves you a collection of certain eclectic menu of Asian inspired dishes. You can find sushi menu, Asian fusion menu of various regional cuisines that include Korean cuisines like Kimchi side dishes and the Korean spiced green beans. Other Asian dishes to look for include Thai specialties, Tandoori and Asian dishes.
For any help on Montreal Restaurants, check out the info available online, these will help you learn to find the Restaurants Montreal an instant go!