Top 4 Themed Restaurants in Niagara Falls, CANADA
Planet Hollywood
The Planet Hollywood in Niagara Falls, Ontario CANADA is located on Falls Avenue, in the heart of Niagara, by Clifton Hill and literally beside the Rainbow Bridge connecting Canada and the U.S.A.
This popular themed restaurant is well known across North America for its Hollywood themed memorabilia decorating its walls & ceilings.
Being a chain of restaurants, The Planet Hollywood allows franchise owners to trade memorabilia items making a guest's repeat experience even more enjoyable since there is always something new to be viewed at that particular location. What also makes the Planet Hollywood a great restaurant is the fact that they will allow you to come visit without a reservation, in fact go visit even if your don't plan on staying for their fabulous California inspired menu, just to check out all the historical garb.
Hard Rock Café
Here is the place to go if you would like to fulfill your auditory senses along with your visuals. At the Hard Rock Café in Niagara Falls, Ontario you may view & Listen to some of Rock & Roll's most famous (and infamous) musicians & Groups from every era of Rock's history! Located on Falls Avenue, you will even find a specialty room dedicated specifically to Elvis "The King" Presley. It's quite the walk down memory lane watching familiar videos, viewing your favorite band member's actual instruments played at venues you may have been too yourself. Be sure to check out profound quotes from the likes of many of Rock Music's most remembered, like Jim Morrison, Eric Clapton or John Lennon, just to name a few.
Let's not forget the popular American style menu with all your favorites, including your top staples like cheeseburgers, fries and your most popular finder food appetizers that go so well with a nice cold alcoholic drink to warm your heart or loosen your soul.
Rain Forest Café
Now talk about fulfilling your senses, this themed dining establishment not only has the visual and audio experience to make for a great visit, but also includes a thunderstorm every 20 minutes with lightning and rain to make it a truly one of a kind adventure while enjoying a safari jungle-themed menu of all of our favorites.
The entrance to this location, which is on Clifton Hill, is actually a store where you can buy a clothing item with your favorite Rain Forest critter on it or that cute stuffed animal, endearing yourself to that special someone or pacifying that youngster who loves anything soft and squishy! Be sure to check out the Live Shark or Reptiles while your there. Don't Knock on the Glass!
Massimo Capra's Rainbow Room Fallsview Restaurant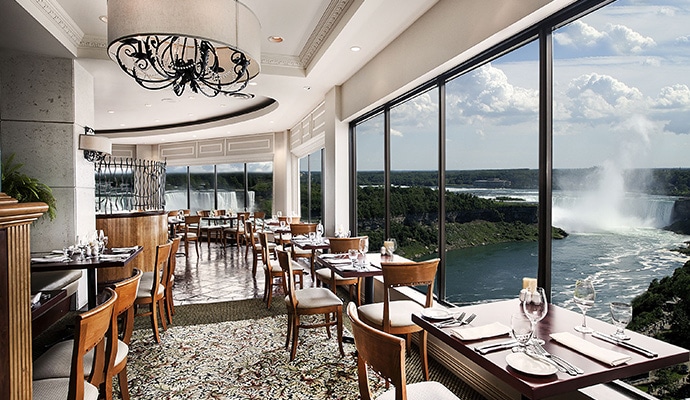 This dining gem is located within the luxurious Crowne Plaza Hotel Niagara Falls – Fallsview a Niagara Falls Hotel with a rich history in the Niagara Falls area, patronized by many celebrities over the years.
Although this restaurant is not truly a themed restaurant, it is classified as Celebrity Chef Massimo Capra Inspired, with a menu infused with favorites from this great chef's special recipes.
I believe this restaurant to be one of the best of the aforementioned fine dining establishments, as the view of both the American & Canadian Falls, whether daytime view or the famous night, is one of the most spectacular views I have ever witnessed.
I work for Niagara Falls Hotels in Niagara Falls.
http://www.NiagaraFallsHotels.com
http://www.niagarafallscrowneplazahotel.com